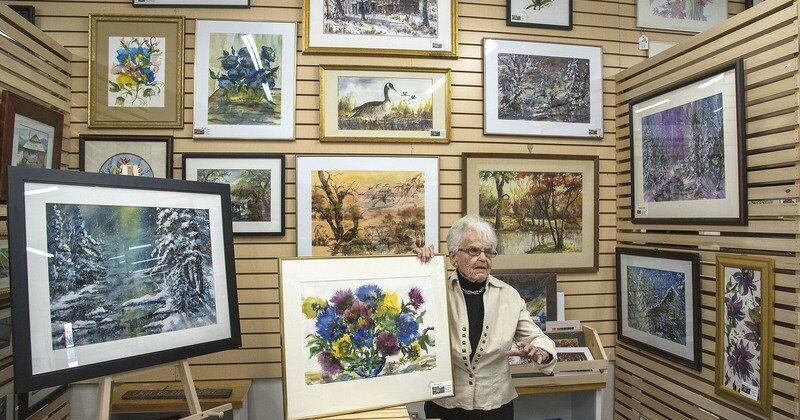 'A time for every season' now showing | Lifestyles
Dody Walter grew up in Newfane on a fruit and vegetable farm where, she recalls, she and her family still worked. As a girl, she rode horses and attended St. Joseph's Academy in Lockport.
She married Gil Walter, a mechanic, and the two settled in Barker. But for Dody, in her twenties, the life of a housewife was not enough. His education had included trade school, but a job was simply not in his future as, in 1956, Gil was against it. He did, however, say something that changed Dody's life.
"He said, 'Dody, why don't you go visit the school? They do all this adult education," Walter said. "I walked into one room and walked out the other and walked into Joe Whalen's room and smelled this oil, and that's where I started."
The rest, as they say, is history.
In her 92nd year, the prolific and popular painter has put together a new exhibition, "A Time for Every Season: A Show & Sale of Works by Dody Walter", at the Marjim Manor cellar in Appleton. His show started last Sunday.
Walter said his identity as a painter was a blessing from his grandfather, fondly known as DJ. He was well known in Niagara Falls for his paintings, she said, and his works were eventually lost in a fire.
"There was one left and I got it," Walter said. "I was too young (to learn painting with him) when he died. I only started painting when I was 27.
She described her first painting as "kiddish". She was a little embarrassed by her Christmas scene, but she continued to paint and it has been her passion ever since.
"I love her. With her I can go anywhere," Walter said. "I don't really have to go, but I can be there."
She used oils and watercolors, but these days Walter paints in acrylics. Over the years, his subjects have included landscapes, country settings, historical sites, flowers and his favorite winter scenes. When asked to show that she made the clouds look like those in a particular painting, she laughed and said, "I brushed my thumb on it!"
Walter's sight is all but gone now, so when she paints she has to get very close to the canvas, sometimes accidentally rubbing her nose on it. She still paints almost daily, according to Jay Krull, director of the Niagara Art Trail, which features "A Time For Every Season."
"To know Dody is to love him," Krull said. "Her sense of humor, bright personality and humble country girl roots come to life through her interaction with those around her and also in her paintings."
Walter's exhibition at Marjim Manor will be in place until March 27.