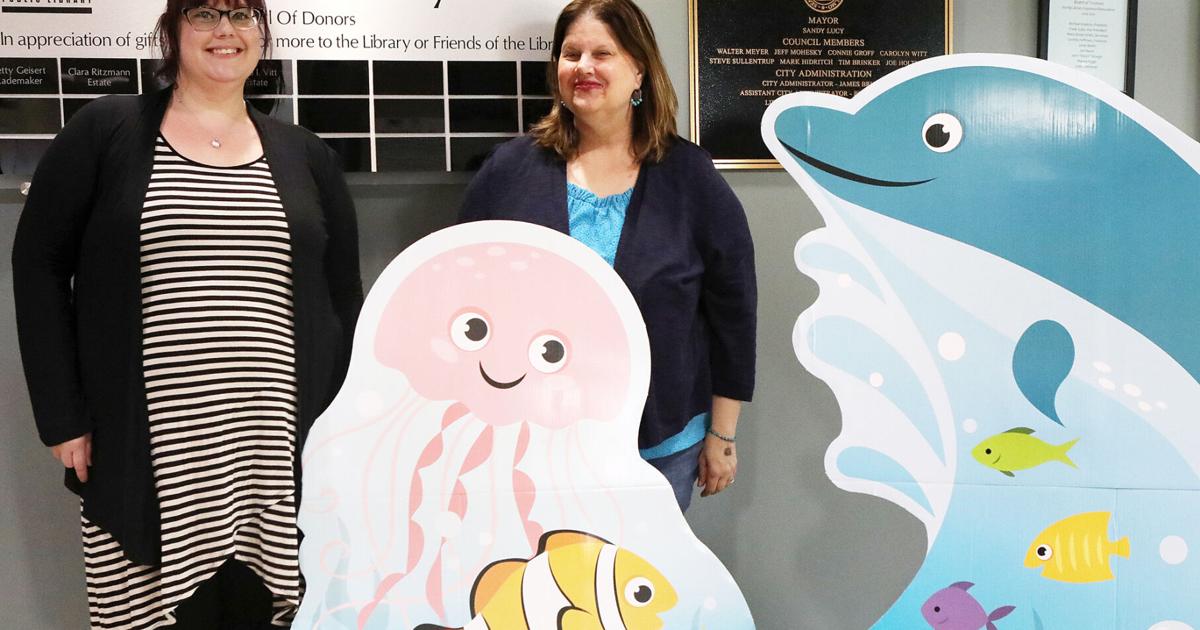 Libraries host 'Oceans' summer reading program | Local News
The Scenic Regional Library and the Washington Public Library have launched their separate summer reading programs, but with the same theme: Oceans of Possibilities.
Officials at both libraries said events and challenges won't be limited to kids — branches have prizes for teens and adults for reading goals and events all summer long.
"Our summer reading program is designed, and of course our ultimate goal is to create lifelong readers and library lovers," said Washington Children's Librarian Ruth McInnis.
McInnis said the purpose of the Library of Washington's summer reading incentive program, which includes prizes such as gift cards and Downtown Washington Inc. t-shirts, is to encourage 20 minutes of daily reading for young children and at least 30 for children aged 9 to 17.
Scenic Regional encourages a similar amount. The challenge for young people is to read for a total of eight hours during the summer, or less than 20 minutes per according to Christy Schink, Assistant Director of Youth and Summer Reading and Outreach Program Coordinator.
Scenic Regional is offering free books, ocean-themed prizes, and a gift basket raffle for prizes at each location. Schink said at Scenic Regional, like in Washington, there are also adult reading challenges.
People can register to participate online or in person at the Washington Library or at regional Scenic branches throughout the summer. Scenic Regional's schedule runs through August 15, and Washington's library closes July 31, before the Town & Country Fair.
McInnis and Schink said that although library traffic has slowed during the COVID-19 pandemic, they have seen more and more people using library services. Schink expects pre-pandemic numbers at events and about 3,000 people signing up for the reading challenge. McInnis said the Washington Library has set a goal of taking a reading challenge to 1,200 readers, which would be a new high. Last year, 800 children participated, she said.
But the programs aren't just about encouraging reading, both libraries host events to get communities excited about their branch.
On June 3, the Washington Library hosted a launch party with the Bubble Bus and outdoor activities and on June 8 it will celebrate Queen Elizabeth II's Platinum Jubilee and host the Mesner Puppet Theater for "How to Catch a sea monster" the following week.
In June, the Washington Library hosts a free artist-led adult painting night and an afternoon for teens in July. Similar to the paint and sip events, the events will include snacks, but no alcohol. The library welcomes New York Times bestselling author Wiley Cash later this month, in addition to The Friends of the Public Library and Neighborhood Reads author series throughout the year.
For Scenic Regional, Schink said there are several events at each location this summer that kids should be excited about. On June 10 and 11, a group of actors from the Bright Star Touring Theater will perform "The Little Mermaid" at the Scenic Regional Library in Sullivan, Union, Pacific, Warrenton and Owensville. At the end of July, a traveling zoo will visit each site and feature kangaroos, lemurs, zebus, bison and other animals. An ocean-themed mad science show will visit six venues in August.
"There will be programs for kids, teens and adults every week at every branch," Schink said.