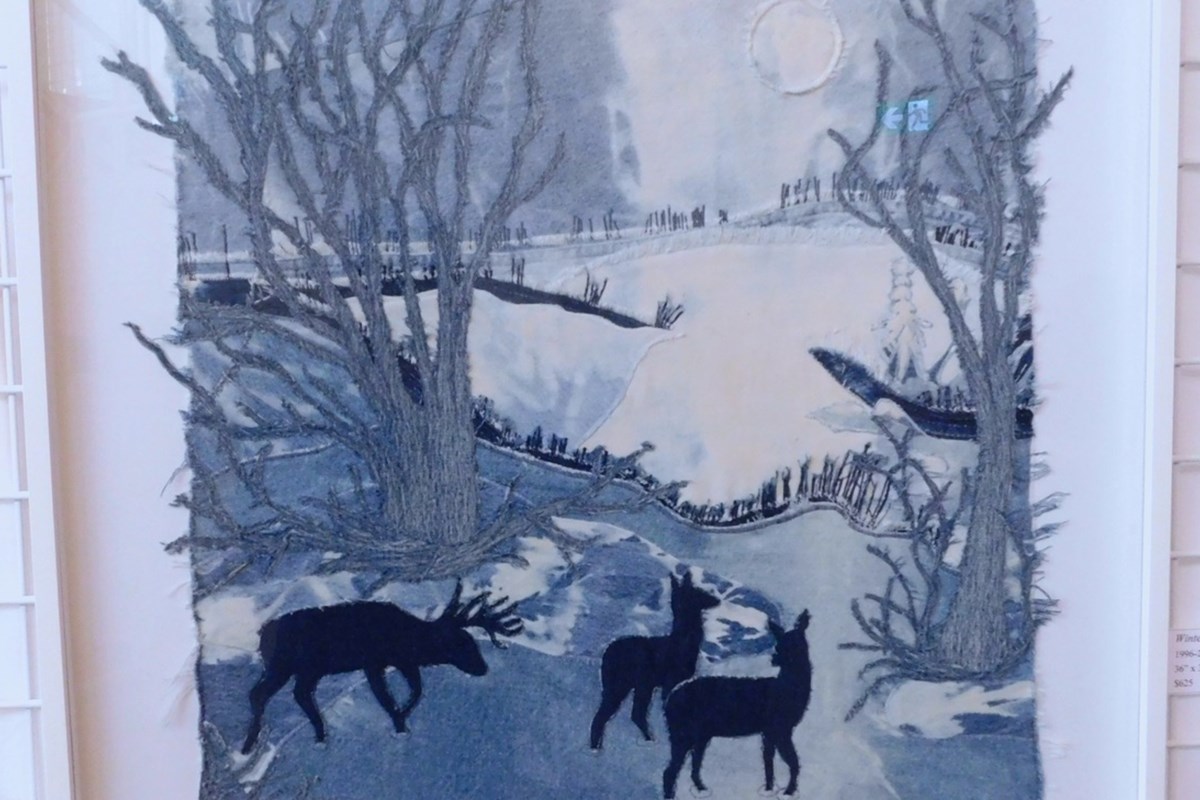 Recycled denim inspires the Indigo Landscapes textile art series
Shar Hamlin's collection is on display at the Timber Village Museum until June 21
Indigo Landscapes, an art exhibit currently on display at the Timber Village Museum (TVM) gallery in Blind River, features unique fiber art created by Shar Hamlin.
Hamlin combines her academic background in landscaping with her love of textiles, creating works of art from upcycled denim jeans.
Thursday evening saw an open house, which drew large crowds to the museum, to view his pieces and meet and talk with Hamlin about his unique work.
A quilter for 25 years, she began experimenting with fabric art to complement her usual quilting work.
Hamlin loves the fact that the materials she works with are recycled.
"We have a lot of fiber waste in our environment just from the fashion industry. It took me twenty years back to the back panel of my denim jacket, which still sits in its Rubbermaid container. I dug up this UFO and decided I wasn't interested in a denim jacket with a deer on the back anymore, but thought why couldn't this be a piece of art? »
"Like many creative people, I start projects and then put them aside while I move on to another project. Thanks to the Rubbermaid Tote, I can neatly store, stack, and hide many textile projects for years until the finishing urge strikes. These projects in the world of textile quilting are called UFOs – unfinished objects.
"Each piece in this collection is made of recycled denim jeans. The denim was cut, torn or frayed, its indigo and white warp and weft threads were then manipulated and machine-sewn. These textured surfaces became an indigo landscape one of a kind.
Leftover blue jeans are collected from family and friends and sewn together to create landscapes and other designs.
"I am a quilt first and foremost, although I work with fibers in many other ways, such as embroidery, crewel, weaving, slow stitching, and eco-dyeing. I am always drawn to the hum of my sewing machine. As a quilter, I spontaneously buy cotton fabrics (ask any quilter from their stash) for potential project ideas that result in more Rubbermaids stocking yards of fabric waiting to be cut and sewn and quilted years later.
"Winter Deer" was the first piece that inspired the creation of my Indigo Landscapes fiber art series," she added of the pieces created from textile denim.
The exhibition lasts for several more weeks and ends on June 21. The gallery is open Monday through Friday, 10 a.m. to 4 p.m. located at 1 Hagger Road at Blind River Marina.
There is no charge to view the exhibit, but donations are welcome.
TVM is also looking for vendors for its waterfront craft market scheduled for June 16 from 4 p.m. Vendors interested in participating can contact TVM at MUSEUM@BLINDRIVER.CA or by calling 705-849-3006.