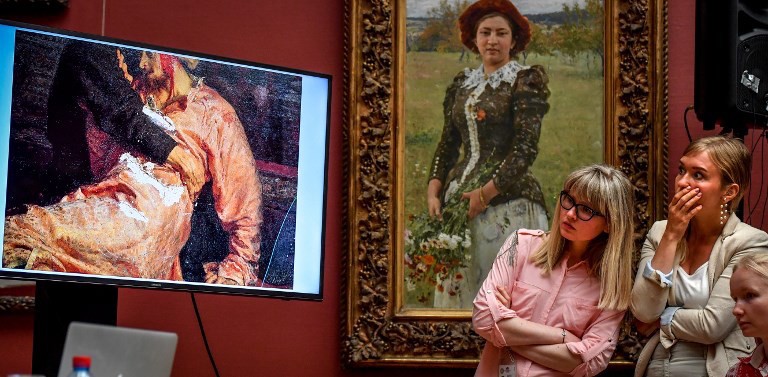 Russia calls for harshest punishment for attack on Ivan the Terrible painting – arts & culture
Russia called for the harshest possible sentence on Monday after a visitor to Moscow's Tretyakov Gallery caused serious damage by attacking a famous 19th-century painting by Ivan the Terrible.
Russian police arrested a 37-year-old man on Friday who used a metal pole to shatter the glass covering the painting of Ilya Repin of the 16th-century Tsar killing his son, damaging the work in three places.
Russian Deputy Culture Minister Vladimir Aristarkhov told a press conference at the Tretyakov Gallery on Monday that his ministry expects the man to receive "the most severe punishment possible".
Under current law, the man faces up to three years in prison.
"Three years is nothing compared to the value of this painting," Aristarkhov added.
"We would like to start a discussion on tougher penalties for art vandalism," said Zelfira Tregulova, director of the Tretyakov gallery, in the Repin room of the gallery where the crime took place.
Read also: Russian police arrest the man who vandalized the painting of Ivan the Terrible
According to state media, the man vandalized the painting for "historical reasons" and later told police that he had acted under the influence of alcohol after drinking a glass of vodka.
Tregulova expressed concern that the Russians increasingly "do not distinguish between artistic work and historical facts".
"The mixture of the two can mean that any work of art can be the victim (of an attack)," she warned.
She called the act a "tragedy" and said it revealed "unprecedented aggression" in Russian society.
The gallery showed photographs of the damage to the painting, which was removed from the Repin Room for the first time since its evacuation from Moscow during World War II.
This is not the first time that the painting has suffered such an attack.
In 1913, a man stabbed the artwork with a knife, tearing the canvas in three places. The artist Repin was then still alive and participated in the restoration of his painting.
Since 1913, the painting has been protected by glass.
Russian state officials lobbied for the rehabilitation of Ivan the Terrible, who ruled Russia from 1547 to 1583 and received the nickname "Terrible" due to his brutal policies, which included the creation of a secret police which has spread mass terror and executed thousands of people. .
In October 2016, Russia unveiled a controversial monument to the 16th-century tyrant, the first of its kind, in the city of Oryol, some 335 kilometers south of Moscow.