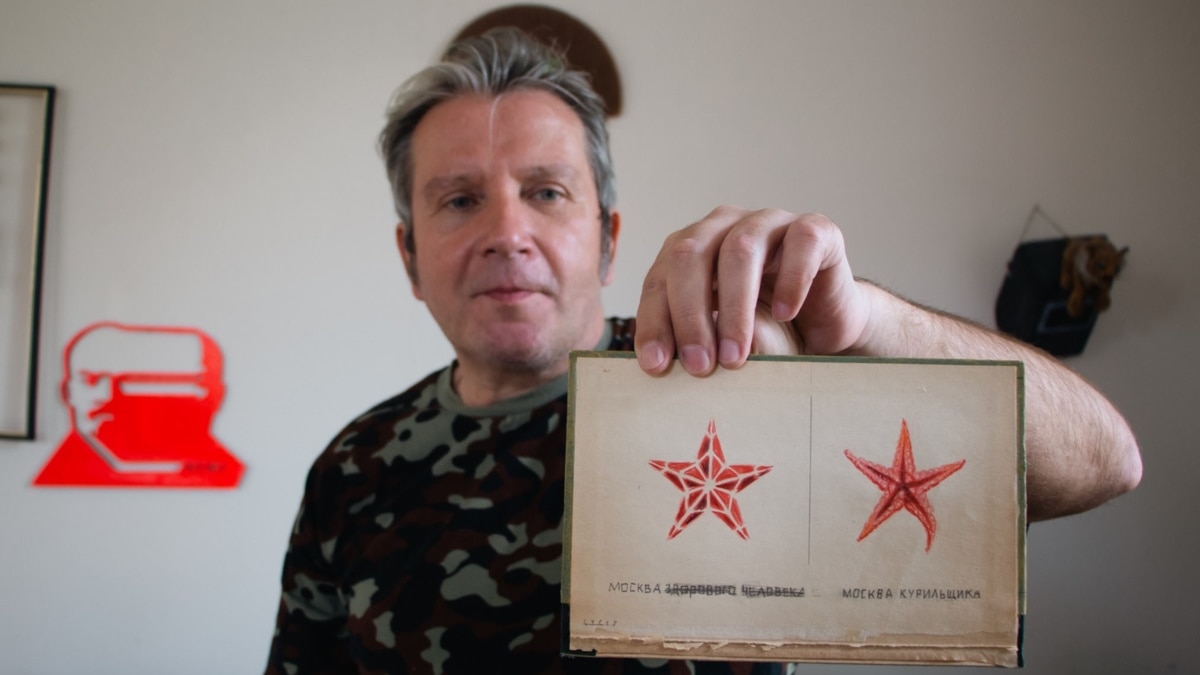 Ukrainian artist pokes fun at Russian invaders in Odessa style
ODESA, Ukraine — Before the Russian invasion, Odessa-born artist Ihor Husev achieved considerable success at home and abroad with his hauntingly dreamlike paintings: A ballet dancer stands on train tracks on snow; a speedboat sits on a trailer by a lake, under an ominous sky that suggests summer is just a memory.
"It takes a month to do each one," he said, gesturing to a stack of oil paintings on canvas he made before Feb. 24. ."
That moment began when Ukrainians in Odessa and elsewhere woke up that morning to a "nightmare", he said, as Russian rockets fell in and near towns across the country.
Like millions of people in Ukraine and elsewhere, it was a nightmare he never expected to come true despite tens of thousands of troops massed at the borders, threats from Russian President Vladimir Putin and US authorities warning that a full-scale invasion could happen any day.
"Putin announced everything so ostentatiously and endlessly that I thought it was just another one of his scary fairy tales," Husev recalled.
The invasion led to a new turn in Husev's art, and a fairy tale figured in a drawing he published on facebook the first day of the invasion – the first work of what he calls "series 3 world war 2022".
Husev drew Lenin's grave walking on chicken legs dripping with blood and wrote "the Russians are coming" below the image, the meaning of which would be lost on almost anyone in Ukraine or Russia: The mummified past is approaching and it is as creepy as Baba Yaga, an evil witch and the ultimate villain of Slavic folklore.
Husev was also scared. "But what could I do?" He asked. "My wife and I realized we'd rather die in our beds than run away, and I decided to keep people's spirits up by doing what I do best: drawing."
And he does it with a healthy dose of Odessa's most famous commodity: humor.
"If you can laugh at something, you stop being scared, and when you stop being scared, you're already a winner," Husev, 46, said.
As the death and destruction inflicted on Ukraine continues with no end in sight and mistrust is widespread in Odessa, which was bombed but eluded capture, this is humor with a dark streak.
There is Lenin's tomb, uprooted from Moscow's Red Square and leaving bloody traces when walking on chicken legs like Baba Yaga's hut.
There is a drawing of farm fields and a road that is eerily reminiscent of optimistic and deceptive Soviet-era art and is captioned with a pun, saying both "Everything will be fine" and "Everything will be fertilizer".
And there is a design that echoes a famous 19th century painting by Russian artist Vasily Surikov, only here a sleigh pulled through the snow does not carry a noblewoman dressed in black under arrest but a washing machine bright white – a reference to looting by Russian soldiers who returned these goods from Ukraine.
In May, he published a simple article that shows the Ukrainian and Russian spellings of the name of his city – Odessa and Odessa – with a fiery bang in place of each letter "s".
Husev has drawn attention with his new works, finding himself invited to appear on TV news in his country, where the invasion has increased solidarity that had already been on the rise since 2014 when Russia seized the peninsula. of Crimea – southeast of Odessa – and fomented war in the eastern region known as Donbass.
What strikes almost anyone who comes to the predominantly Russian-speaking port city in the fourth month since the invasion is the proliferation of blue and yellow national flags that are painted on the walls of many of the buildings.
"The janitors who painted them are the real artists of today," Husev said, speaking as he strolled through his sunny studio filled with books, plants and sculptures. "Unlike some of my artist friends, who continue to paint flowers and landscapes."
Husev's war drawings, meanwhile, are all done on the pages and covers of old books he bought at Starokonka, a flea market in Odessa. Remakes of images from the Soviet school book Mother Tongue are among his favorites.
He believes the works he posts on social media are popular precisely because this aesthetic of torn books, deconstructed classics, and ridiculed Soviet heroes resonates with audiences today.
Some of his works have been printed and exhibited at Odessa's Central Book Market, which has become a popular meeting place – a venue for jazz concerts and plays – as the city seeks to come back to life after the shock initial caused by the war, despite the incessant attacks.
"We all live in an altered state of consciousness. There was a psychedelic revolution in art back then, and today there is the bombardirovka," he said – Russian for bombardment.
For people enjoying their morning coffee at the book market, Odessa seems calm. Military experts say that as long as Ukraine's defensive line is maintained in Mykolaiv, more than 100 kilometers to the northeast, the city is safe.
With thousands of internally displaced people moving in and out, a daily curfew and beaches mined against the threat of an amphibious attack, anti-Russian sentiment appears to be growing in Odessa.
In mid-April, five Russian sister city plaques were removed from a central plaza, and the mayor pledged to replace them with names of cities that have offered help during the current war.
Husev, who describes himself as a Russian-speaking Ukrainian patriot, argues that the legendary city's past and identity need to be rethought with caution.
"I wouldn't just dismantle the statue of Catherine the Great, who founded Odessa," he said, referring to a controversial downtown monument. "It's great architecture, unlike the stupid copies of Lenin that we rightly got rid of."
"I prefer to put a blue and yellow scarf on his neck," he added.
Husev said he believes that while Russia sows reckless destruction on Ukraine, Odessa will be able to break away from its Russian heritage in a self-reflective way, because at its heart it has always been a cosmopolitan city and European.
"What Ukrainians and Russians are witnessing right now is a war between the KVN and the KGB," he said; the former is a television comedy contest popular since the Soviet era. "It's a conflict between laughter and anger, confidence and brute force."
KVN, where comic-turned-president Volodymyr Zelenskiy first caught the eye, is proving more effective, he said: "After all, the enemy who was supposed to crush us turned out to be stupid , lazy, greedy and corrupt."
And that's why he remains optimistic.
"We will win this war anyway. The only question is at what cost," he said.