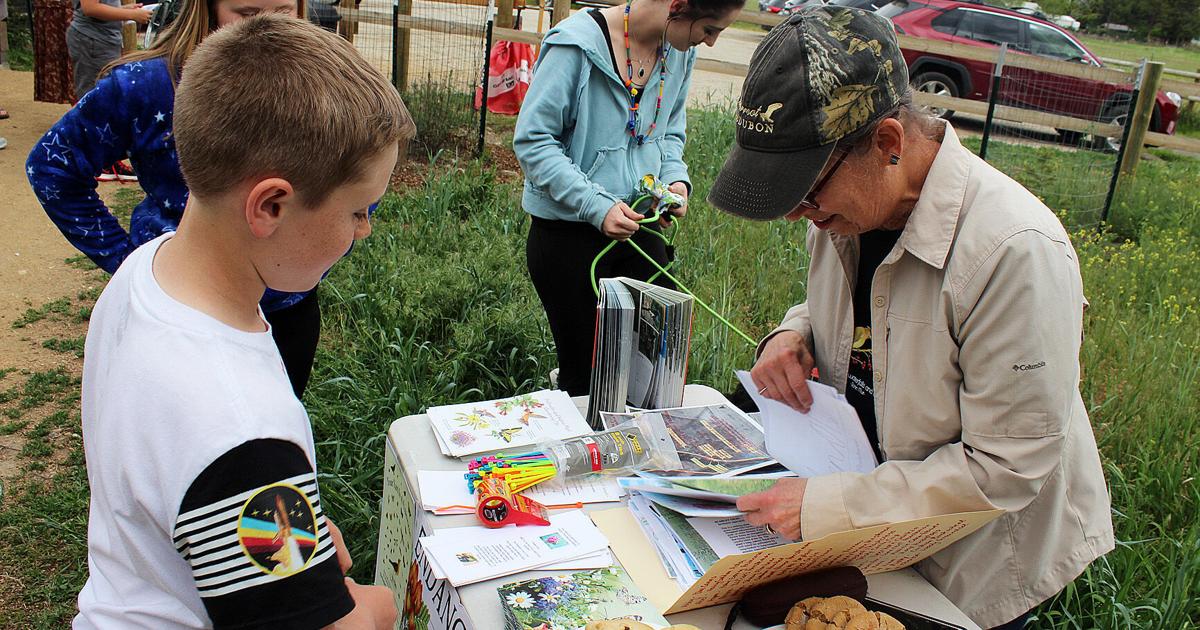 young people from the valley transform Skalkaho Bend park into an art exhibition | Local News
Skalkaho Bend Park served as an art exhibit, scavenger hunt and science center on Wednesday as second- and fourth-grade art students from Daly Elementary School placed their floral designs for all to see.
Earlier this spring, Daly art educators Sophie Carkulis, K-2, and Melina Clark, third and fourth graders, had samples of wildflowers for students to replicate as original artwork.
"They did such an amazing job," Carkulis said. "They really got into it because a lot of them had seen the flowers before, they just didn't know their name. So when I showed them a flower, they were like, 'I saw this one on a hike. last summer," which is really fun.
Carkulis surmises that only a quarter of his students had heard of Audubon and Skalkaho Bend Park before the drawing project.
"The students are so artistic, they've done really, really well," she said. "These drawings are beautiful, really beautiful."
Last November, students and community members planted large amounts of native seeds in Skalkaho Bend Park, but many seeds failed to sprout, possibly due to the harsh winter. To make the event a success, Bitterroot Audubon Coordinator, Becky Peters, and her husband, Bill, bought plants, planted them, and caged them for the young artists to hang their creations with in-depth information on plants.
"The art students drew pictures, I put them on card stock, and Hamilton Parks and Urban Forestry Manager Amy Fox helped me laminate them," Becky Peters said.
On Wednesday after school, the parents took their children to Skalkaho Bend Park.
The first step was for the artists to visit Peters at his table, gather their artwork, the laminated label, and a photo of where that particular plant had been planted. Then the artists researched the location of the plant, added their tag, and enjoyed the overcast but warm June day.
"Labels are full of information, so the cushion buckwheat label talks about cushion buckwheat and then has the drawing," Peters said. "Oh my God, the drawings are adorable."
Bentley Hayward, 10, explained his drawing of the Rocky Mountain bee to Peters. His design had the flower, the grass blurred because it moved in the wind, and a camera lens.
"People are taking pictures of the flower," he said. "I want people to take a picture of it if they see it."
It didn't take long to find its flower, even though it was so early in the season that there was only a bush, no flowers.
"The background of the photograph gave the clue," he said, pointing to the photo and the landscape. "That building is right there; this tree is right there and there are other plants around.
Theresa Bryan drew woolly groundsel with colored pencils.
"I can't remember how long it took me to draw, it was in art class," Bryan said.
Emma Lawrence, 10, drew a Fuzzy Tongued Penstemon with pink flowers.
"Our art teacher gave us a picture, so we knew how to draw it," Lawrence said. "We had two days to do it, but I wasn't there the next day, so I had to do it in one day."
Eight-year-old Austyn Wetzsteon drew a showy fleabane in art class from samples showing the flowers.
"It was a fun project," Wetzsteon said. "I really, really like the river, the trees and the fact that there is green everywhere. I like green, it reminds me of my second year teacher, Miss Baum. Our family comes here sometimes, I likes to cycle and fish with my father and my grandfather.
Her father said Austyn had fished the Bitterroot River which flowed past Skalkaho Bend Park last summer.
Almost 11-year-old Knox Pruitt cycled to the park and drew a prairie cone flower for the project.
He said he had seen the flower before.
"It's in my backyard but I didn't know what it was called," Pruitt said. "It was really fun to draw and I love the way the prairie flower petals sag. My flower hasn't bloomed yet, I can see the yellow coming, but it hasn't bloomed for a while.
Although it may be too early in the season for flowers, enjoy a visit to Skalkaho Bend Park and read the flower information labels and appreciate the designs of young artists. The goal is to establish a pollinator garden, but Peters said the effort could take a few years.
By the way, there will be no 2024 Audubon calendar, which Peters usually leads.